Protection or Price
Have you ever been asked which is more important to you?  Most have not, but it's an important question.  When choosing insurance, we know all customers do not value the same things...needs, wants, and perceptions of insurance vary.
Whether you're a new RPR customer or loyal policyholder, this is why we ask what's important to you.  From there, we'll go to work and shop more than a dozen insurance companies to meet your needs.  We use a tool called "Quote Study" to narrow down the results to make it simple for you to decide.
About Our Name
RPR Insurance was originally, Raymond Preston & Reed.  Founded in 2008, the owners wanted a name that had meaning, thus they named the company after each of their sons.  As time has gone on, we've realized RPR Insurance rolls off the tongue smoother, gives a clearer picture of what we do, and we don't get confused with an old school law firm anymore.   Plus, in the hashtag world we live in, it's fun to use #TeamRPR!
Speak to a Real Person...or Email...or Text
When you call RPR Insurance, you'll get to speak to a real person.  We don't use auto attendants and that require you to hit 17 prompts before getting help.  Our team is here to serve you for all things big and small.  We can help you with new coverage, policy reviews, rate comparisons, policy changes, billing, and so much more.  We like to meet our customers where they are...want to email, we can do that...prefer to text...yes, we can text with you too!
Independent Agent Vs. The Rest
Independent agents can be confusing to some...the industry term "Independent" simply means we are not exclusive with any one company.  The chart below shows some common differences between what we can do vs companies that have Farm, State, Mutual, or billion-dollar advertising budgets: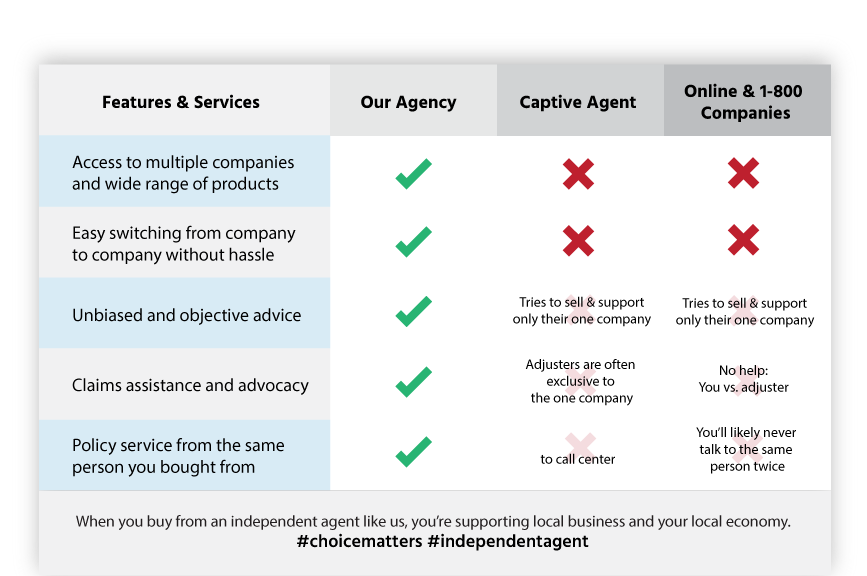 To get started with a Quote, simply complete the fields below and click submit!
Feel free to call or text us directly if you have more detailed questions so we can help you LIve Protected!